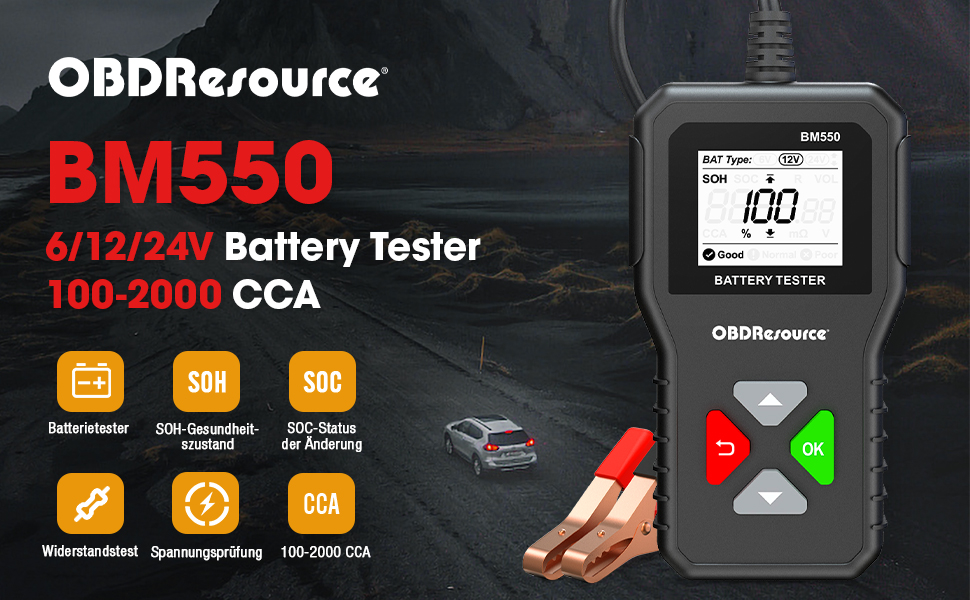 BM550 100-2000 CCA Battery Analyzer 6V 12V 24V Car Battery Tester,including regular flooded, AGM flat plate, AGM spiral, GEL and EFB batteries, Compatible with Cars Trucks SUV ATV Boats Motorcycles.
Zeigen Sie schnell und genau den Status der Autobatterie an, einschließlich Spannungstest, Widerstandstest, SOC-Test und SOH-Test.

Plug and Play, geben Sie die Batteriespannung und den CCA auf dem Batterietester ein, um schnell zu testen.

Unterstützt Tests im Fahrzeug und außerhalb des Fahrzeugs, ohne die Batterie zu entfernen.

Sicheres Design des Verpolungsschutzes.

Einfaches und effektives Werkzeug für Heimwerker, Autofabriken, Werkstätten, Hersteller von Autobatterien und mehr.

"Gut" im Batteriestatus bedeutet: Der Batteriestatus ist gut und einsatzbereit.

"Normal" im Akkuzustand bedeutet: Der Akkuzustand ist normal und kann weiter verwendet werden.

"Schlecht" im Batteriestatus bedeutet: Der Batteriestatus ist schlecht und ersetzen Sie ihn rechtzeitig.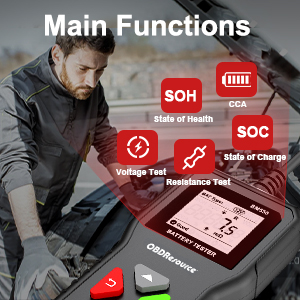 Ein Muss für Autobesitzer
Es misst den tatsächlichen Kaltstartstrom (CCA), die Kapazität der Batterie, den Gesundheitszustand (SOC) und den Ladezustand (SOH).

Genauer und schneller Test
Mit dem integrierten intelligenten Mikroprozessor, der den Test im Vergleich zum US-Midtronics schnell und genau macht

Batteriezustandstest
Selbst ein Anfänger kann mit diesem Batterietester beliebige 6V/12V/24V-Batterien einfach analysieren.
Der Batterietester zeigt Testergebnisse an: "Gut, Normal oder Schlecht", prägnant und leicht verständlich für Ihre schnelle Referenz.