OBDResource obd2 scanner bluetooth 4.0 is an intelligent smart obd2 bluetooth car diagnostic device which designed by professionals OBDII team, product provides professional auto repair data to users, which is also trusted by mechanics and professional engineers.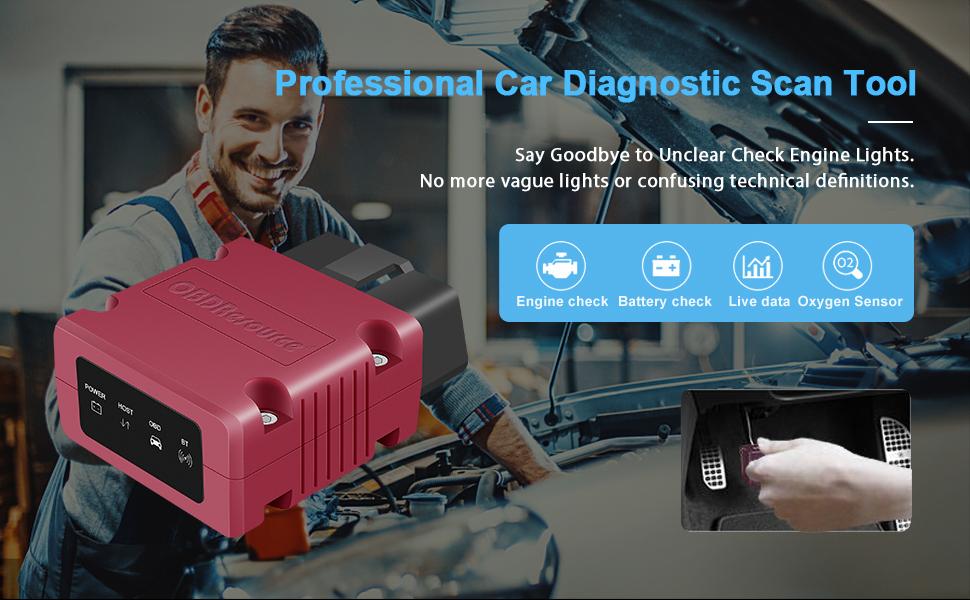 What can OBDResource car diagnostic equipment do?
- Read and Clear Codes: Read and clear engine codes. Stored Pending and Permanent for all makes.
- Freeze Frame: Freeze Frame data is a snapshot of the vehicle when the Freeze Frame code was stored.
- Mode 6: Advanced test results (like misfire counts) for on-board diagnostic system monitors.
- O2 Sensor: Check the vehicle O2 sensor values.
- Battery Test: Show battery voltage and comment battery status.
- Smog Check: Indicate whether or not the various emissions-related systems on the vehicle are operating properly and are ready for inspection and maintenance testing.
- MIL Status: MIL is essentially an emission warning light. If the light comes on, it means the OBD II system has detected an emissions-related problem.
- Live Data: DIY diversified PID display method(Graphic display, Dashboard display and Digital display). iOS supports 4 parameters comparison and Android supports 2.
- Repair Reports: Generate a comprehensive report for the DTC, containing the definition, possible causes, saving you time and money.
- Quick Scan: Quickly scan the vehicle and analyse vehicle status.
- Vehicle Info: Check the make, years, VIN Code and other detail information of your Vehicle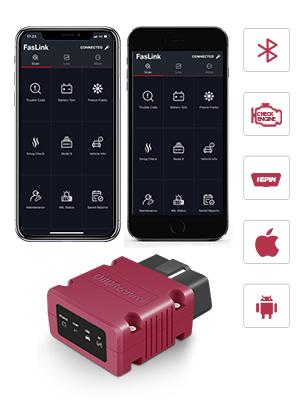 Supported software & operating systems
Supported software: FasLink X, Torque
Supported operating systems: Android, iOS
Supports all standard OBD2 protocols:
1. SAE_J1850(PWM,VPW)
2. ISO_9141-2
3. ISO_14230-4(KWP, KWP-FAST)
4. ISO_15765-4(CAN,CAN-B,CAN-C,CAN-D)
5. SAE_J1939(CAN)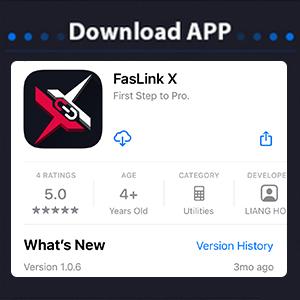 How to use
1. Download and install the Faslink X APP from Google Store or APP Store;
2. Plug the device into the 16-pin Connectorrun;
3. Run the Faslink X app and tap CONNNECT.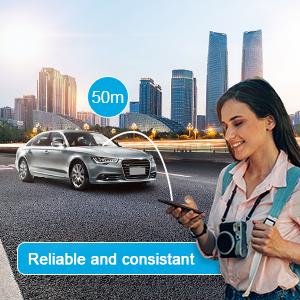 Diagnose Your Car Even Far Away
This OBD2 scanner Bluetooth 4.0 has a strong stability on connectivity and the connection distance can reach up to 20-50 meter(when no barrier), which is more convenient for you to diagnose outside your car.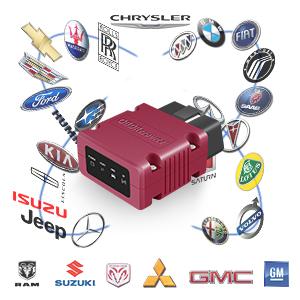 Support Almost All Vehicles
Compatible with all 1996 and newer model cars, SUVs, and light trucks sold in the US, Europe, and Asia.
Note: Cannot work on hybrid and electric cars.