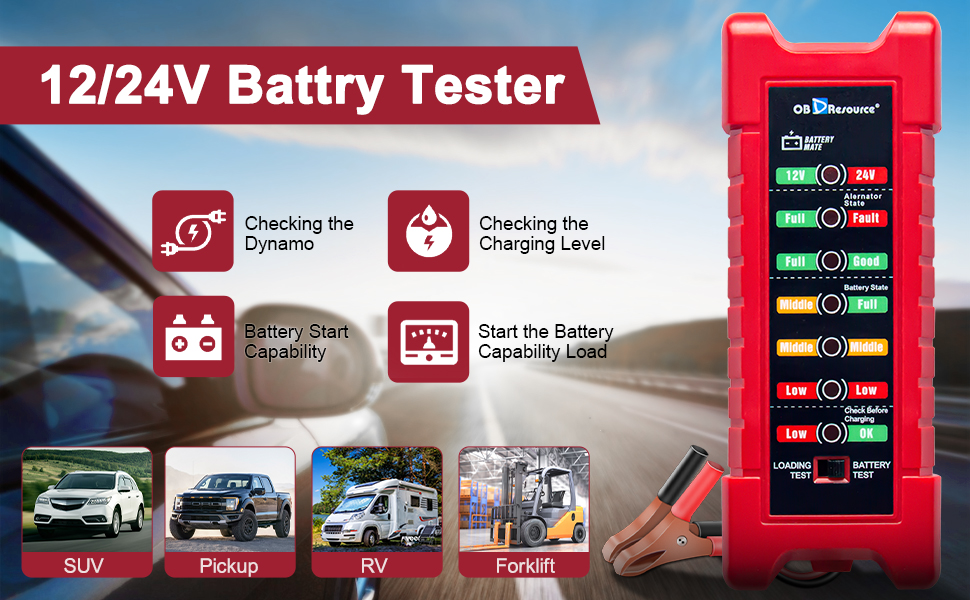 12V/24V CAR&Truck BATTERY TESTER
Checking the Dynamo: Connect the testing device. Start the engine and turn off all electrical device. Star the engine again and Turn on all electrical device. In both cases, then green signal LED "GOOD" should be shiny. The red signal LED " Defective" will start to shine if the dynamo in bad condition. If the situation happen, please go to local car workshop.
Checking the Charging Level: Switch on the headlights for 1-2 minutes, then switch off. Remove the cable clips from the battery, wait approx. 10 mins then switch the testing device on again. A signal LED will shine according to the charging status of the battery indicating " Full" " Medium" or "low" .
Battery Start Capability: The battery needs to be charged up to the maximum. Remove the connection of the ignition coil then connect the testing device. Try to start the vehicle using the key in the ignition switch. The engine cannot start (interrupted ignition). When the green signal LED "Battery OK" starts to shine, the charging status of the battery is ok.
Start the Battery Capability Load: Switch to the loading test mode, then start the engine.
Full: six-five LED will be shiny ;
Middle: four-three LED will be shiny ;
Low: two-one LED will be shiny, if no LED shine it means the battery capacity is very low, please charging the battery or change the battery.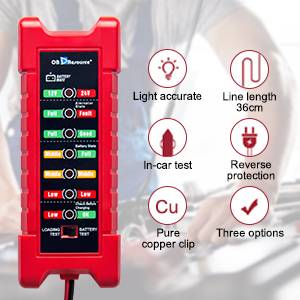 The reverse protection function prevents burn-up caused by miss-operation between the battery and cable terminal.

Pure copper wire and clips make excellent conductivity and high sensitivity.

Anti--slip design in both side makes you are able to use it flexibly even wearing gloves.

Insulated Alligator Clips, strong biting force, stable contact current, not easy to leak.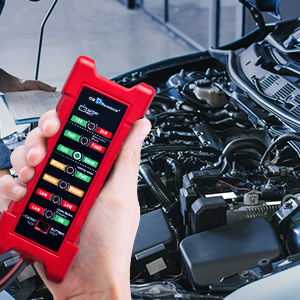 Why do I need a BM410 battery tester?
This battery tester provides technicians and professionals with important information about checking and testing the battery capacity, battery loading capacity and engine.